"ONE VOICE" - STARRING VOICE IMPRESSIONIST BETHANY OWEN
BUY TICKETS HERE for any upcoming Bethany Owen show at the Horizon Casino Resort during 2011
Location: 50 / US Hwy 50, Stateline, NV 89449
Group discount rates available on reservations of 10 or more people
VIP Booths available.
Click the link below to purchase tickets online now or call the BOX OFFICE at (1-800) 863-8266 for further show and reservation information.
CLICK HERE FOR PERFORMANCE SCHEDULE AND ONLINE TICKET PURCHASE INFORMATION
All Your Favorite Love Songs, DIVORCE Style!
All Your Favorite Love Songs, DIVORCE Style! - features many of Las Vegas' top celebrity impersonators performing some of Splitsville's greatest hits such as - The King singing "Are You Loathsome Tonight" - to the Chairman of the Board crooning "You Make Me Feel Like Dung" - to Bethany Owen (as Debby Boone) singing "You Dried Up My Life" and many more hilarious parodies of classic love songs you'll want to have in your musical collection. This album is required listening for anyone who is divorced, getting divorced, contemplating divorce or just wishes they were divorced. Song samples and lyrics available on the site (click here) or to order click on the CD cover above or on the link below! Order "All Your Favorite Love Songs, DIVORCE Style!"

 
Bethany Owen pays tribute to "Women of Jazz"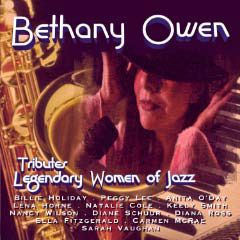 Summer of 2007 - New CD released from Impressionist, Bethany Owen performing songs from the 30's, 40's and 50's. Bethany pays tribute to great Women of Jazz like...Ella Fitzgerald, Lena Horne, Sarah Vaughan, Anita O'Day, Peggy Lee, Billie Holiday, Keli Smith, Nancy Wilson and many others in this 12 song CD performance that Time Life Music would be jealous of. This CD is available and ready to be shipped today through this website. The CD website price is $10.00 which includes shipping & handling, PayPal accepted with a three dollar additional processing fee added to all credit card orders. To order: contact JRW Group Entertainment at jrwgrp@att.net and mention "A Tribute to Women of Jazz" CD by Bethany Owen. Hear CD samples by clicking on the "Voice Sample" link in the navigation bar and clicking on "Legendary Women of Jazz".
"One Voice" Tour Polo Golf Shirt
Design: CREST LOGO ON POLO SHIRT: High quality three button polo golf shirt. Tour logo stitched in Red & Black design combination with type displaying, "One Voice Tour - Bethany Owen stitched in white. Available in road tour black only. Sizes available are Small, Medium, Large, Xtra-large and 2X PRICE: $15.00 + Shipping Orders taken on PayPal.com